Warranty Policy:
This warranty is solely and entirely applicable to all EVM-branded products and the original (first) purchaser of the product (only to the extent of those mentioned in Article 1 hereof; hereinafter referred to as "Products"), and supersedes all other warranties and representations, whether in oral or written, between you and EVM.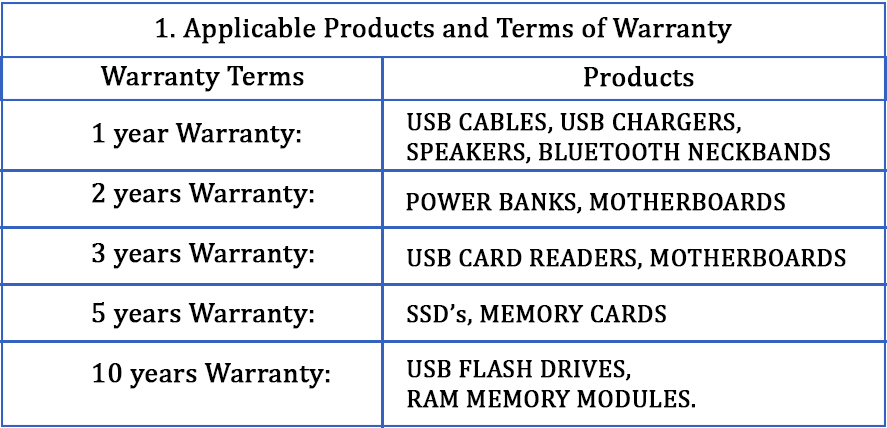 Warranty Service
2.1 Subject to the terms and conditions hereunder, EVM provides, without any charges or fees, replacement or repair services to our customers for defective Products within the applicable warranty term (hereinafter referred to as "Warranty Service"). The EVM Customer Service Team Reserves The Right To Make Final Decisions For All Warranty Claims And Replacement Or Same Colour Preference. The Company May Replace The Product With An Equivalent New Or Refurbished Product Preferably With Same Colour Depending Upon Stock Availability. The warranty term commences from the original purchase day. If Warranty Service is needed, any documentation which is able to prove the original purchase day should be provided. If the original purchase day cannot be determined, the commencement of the warranty term will be determined by EVM according to the Product serial number.
2.2 Please contact the local reseller where the purchase was made for help. Or you may, at your option, make a Warranty Service Request on EVM's PICK-UP & DROP webpage. Through your request on the webpage, EVM will provide Warranty Service from EVM headquarter. EVM shall cover the cost of all transportation and relevant insurance when returning the Product back to you after Warranty Service completion.
2.3 Please note that:

(1) EVM may replace the defective Product with a spare product from stock as in lieu of repairing the Product, and after replacement, EVM may at its sole option dispose of defective Products. Therefore, in this case, the repaired Products you receive may not be the original Products you sent for Warranty Service, and the original Product will not be returned back to you as well.
(2) ONLY REPAIRING: The Warranty services are limited to repair or replacement of the product depending on the product category and is at the sole discretion of EVM.
In case of some products, they will only be repaired & returned, and under no circumstances, will EVM provide a New/Fresh unit of these products:
MOTHERBOARDS
BLUETOOTH SPEAKERS
INFRARED THERMOMETER*
OXIMETER*
USB CARD READERS
POWER BANKS
BLUETOOTH NECKBANDS
USB CABLES & CHARGERS.
*While we Understand that COVID essential products like Infrared Thermometers & Oximeters may require urgent replacement, and the EVM team will, to its full capacity, help to arrange that, but, under no circumstances should EVM be held responsible for not arranging the replacement until we have received the defective/malfunctioning unit at our service centres. Customers/Users are requested to keep Transit time in mind.
(3) In the event that production of the Product has been discontinued or factory repair service is no longer provided, EVM will, at its sole discretion, offer a substitute in equivalent level or class for such Product instead.
(4) DOA Policy: Any product will only be accepted as Defective on arrival/Dead on arrival within 30 days of the date of Invoice from "HUNDIA INFOSOLUTIONS PVT. LTD. / PIN PERIPHERALS PVT. LTD. / EKMATRA TECHNOLOGY PVT.LTD." New/Fresh Units will be provided against DOA unit only after it meets our criteria.
Scope of Warranty and Disclaimer
3.1 This warranty will not apply under these circumstances:

(1) Malfunctions or damage that is caused by natural disasters, accidents, acts of vandalism, and improper use (products not used in accordance with the product's description, product design, or as a fixture or for testing purposes, such as continuous plugging and unplugging, etc.), improper installation (e.g. on equipment that is not compatible or not in compliance with the product's design, etc.,

(2) Products that have been damaged due to misuse, neglect, unauthorized disassembly, modifications, or alterations.

(3) Product damage caused by abnormal mechanical or environmental conditions or power problems such as insufficient voltage, excessive and unstable power supplies, or excessive charging of lithium batteries.

(4) Product serial number, barcode or label is inconsistent with the original or not visually identifiable to confirm the authenticity of the product, including having been modified, smeared, removed, damaged, lost.

(5) Products purchased through unauthorized distribution channels, second-hand retailers, or resale products that violate national import and export regulations.

(6) Compatibility issues not related to EVM products
Internal SSD: Data Recovery
3.2 NEVER does this Warranty apply to the recovery or back-up on any digital data in the Product. EVM does not guarantee the completeness of digital data stored in the Product during and after Warranty Service, and is not liable for any damages or losses of digital data stored in repaired Products. Furthermore, EVM shall in no event be liable for, during the delivery of the Product, any damages to the Product and any losses of digital data stored in Products. Consequently, before sending the Product to EVM for Warranty Service, if it is equipped with storage function, it is suggested that you make a back-up of your digital data from the Product and remove those digital data from the Product.
3.3 To the extent that applicable laws or regulations allow, in no event shall EVM be liable, under this Warranty, for any losses of profit, anticipated savings and digital data, or indirect, incidental or consequential losses or damages caused by Products.
For Non-Functional SSD Drives:
If your SSD is no longer functional or cannot be accessed by your computer, you will have to send it to a Data recovery company. They will attempt to recover data on your SSD. EVM DOES NOT recommend any particular company. Also, in case the Data recovery company attempts to recover the Data by any form of Physical alteration/modification/repair, the EVM warranty will stand Null & Void.
Please acknowledge that:
There is NO guarantee that data recovery will be successful. EVM is NOT responsible for the recovery or transfer of your data. You must work with the data recovery vendor directly to receive any recovered data.
EVM will have NO access to your data and is NOT responsible for data on your old drive in any manner.
EVM does NOT take any responsibility for your data, recovery of your data from your device, acts or omissions of the data recovery company and/or expenses during and after data recovery process.
3.4 EVM manufactures consumer and business-class Products. Since Products are not designed for extreme precision technology or absolute safety applications, it is not recommended to apply the Products in life support machines or other emergency equipment, which may lead to personal injury or death if such equipment is defective or suffers a breakdown, including but not limited to medical or medical-related equipment, military or military-related equipment, aircraft, traffic control equipment, disaster prevention systems, combustion control system, nuclear energy system, and so forth. EVM shall not be liable for any personal injury or death, or any loss or damages to property arising from such kind of application mentioned above.
3.5 EVM makes no other warranties, including any warranty of merchantability or fitness for a particular purpose, whether expressly or implied, for all the Products. In the event that any law or regulation of a particular country/region prohibits the exclusion of implied warranty (i.e. warranty of merchantability and fitness), the terms of EVM's implied warranty shall be subject to such laws/regulations or the Warranty term hereunder, whichever is shorter.
4. For EVM EnWrist Smartch
4.1 Warranty points
EVM Enwrist comes with 1year warranty whereas accessories provided with watch contains 6 months warranty
EVM will replace/repair the defective parts or accessory as per EVM repair/replacement policy.
Any unauthorized repairs will attract warranty void
This warranty does not exted to loss of device or damage to device from fire, water*,wear and tear, theft, vermin or insect infestation
Warranty gets void if non EVM accessor is used
The dept of the water at which Enwrist was submerged was greater than or equal to 1 meter or Enwrist was submerged in water for 30mins or more
software or firware alteration
This warranty does not cover loss of any data howsoever caused
This warranty does not cover any defects not notified to EVM within the warranty period.
4.2 Warranty Coverage:
Congratulations on your purchase of our smart watch. We provide a warranty to cover any manufacturing defects or malfunctions for a period of 1 year from the date of purchase. Please read the following terms and conditions carefully:
4.3 Warranty Period:
The warranty period for the smart watch is 1 year from the date of purchase.
The warranty is valid only for the original purchaser and is non-transferable.
4.4 Warranty Coverage:
Our warranty covers manufacturing defects in materials and workmanship.
The warranty does not cover damage caused by improper use, accidents, water damage beyond IP67 rating, unauthorized repairs, modifications, or tampering.
Damage resulting from normal wear and tear, including scratches on the display, strap, or case, is not covered under warranty.
4.5 IP67 Rating:
The smart watch is IP67 rated, which means it is protected against dust and capable of being immersed in up to 1 meter of static water for up to 30 minutes.
Please note that the warranty does not cover water damage beyond the specified IP67 rating.
4.6 Warranty Service:
In case of any manufacturing defects or malfunctions covered under warranty, please contact our customer service team or visit our authorized service center.
Proof of purchase, including the warranty card and original receipt, will be required for warranty service.
4.7 Exclusions and Limitations:
Our warranty does not cover any indirect, incidental, or consequential damages arising from the use of the smart watch.
Our liability under this warranty is limited to the repair or replacement of the defective product.
Please retain this warranty card, along with your original purchase receipt, in a safe place. Failure to provide the warranty card and proof of purchase may result in a denial of warranty service.